I had a wonderful weekend. It was my little sister's 12th birthday, and opening weekend for the musical that she is starring in ("The Secret Garden" put on by
The Falmouth Theatre Guild
). She was
great
, and it was also wonderful to have family up visiting from North Carolina (specifically my sister, cousin, aunt and uncle). It's weekends like this where I find it extra hard to make time to clean.
And that's another big problem for me; time. I am busy, it feels like all the time. Yet, I find it hard to get everything I need to done! I commute to work and school, so Monday - Saturday I am in my car for
at least
2.5 hours. That sucks. When I do get home I just want to eat dinner, spend some time with Nick, and go to bed. Then on Sunday, my one free day, I want to go shopping, see a movie, visit with friends and family, drive around the beautiful place I call home, lay in bed, basically do whatever I want. But that's the problem. There will always be something I would rather be doing, but cleaning is something I will always have to do.
Remember that nice, clean and organized dorm room I talked about in my last post? Yeah, this is what happened to it when I stopped making the time to clean it!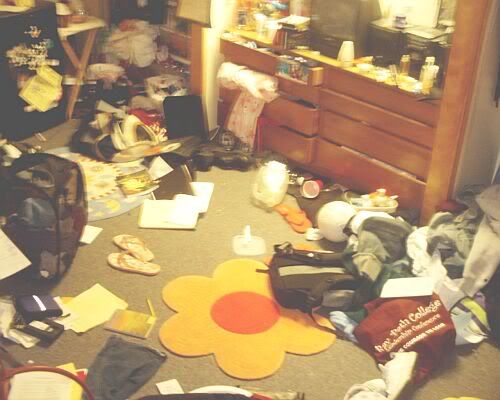 And that's where I'm at today. Prioritizing my time. Nick and I got some cleaning done yesterday after visiting with family and friends, and it felt good. The living room suddenly feels so much more relaxing when it's been vacuumed! Here is my test for the next couple of days. Nick will be away for work until Thursday, so my plan is to use these couple of nights when I will
literally
have nothing else to do to clean. I will maintain where it is clean-wise now, and I hope to at least tackle the bathroom while he's gone! Wish me luck!